How to manage the COVID-19 pandemic
Solutions for the society
Since December 2019, COVID-19 has spread all over the world. For many countries, the only efficient way to limit the spread has been a lock down, with dramatic consequences on economy and social life.
Yet, a less extreme solution is available to manage the pandemic while keeping society running. It requires the active surveillance of the community. The mariPOC® COVID-19 test is perfectly adapted for this purpose. The test system is available directly at the point of sampling, and provides high throughput, as well as quick results, enabling frequent testing of individuals. This is the key to detecting contagious individuals before infecting others, and it enables the appropriate isolation measures to be taken early enough.
Contrary to other antigen tests, with mariPOC® test, several pathogens can be tested from one sample. The Respi+ panel detects 11 different causes for severe respiratory tract infections including COVID-19.This feature is very valuable during influenza season.
The test results obtained by mariPOC® analysers are anonymised and securely transferred to the mariCloud® platform. The mariCloud® service visualizes the  real-time epidemiological data as statistics and graphs providing a holistic view of the current situation. This information is important for predicting the evolution of the epidemic, infection control and optimizing quarantine measures locally.

In a nutshell, mariPOC® test system is perfectly adapted for COVID-19 surveillance. It's an all-in-one tool to limit the viral spread, manage the pandemic and keep society running.
Solutions for traveller testing
Countries have been setting new restrictions and regulations for international travelling to control the spread of coronavirus . The only way to successfully keep societies and economies up and running, while minimizing the spread of COVID-19, is to allow only people without symptoms to travel and implement strict testing strategies.
The fully automated mariPOC COVID-19 test is perfectly well suited for traveller testing at airports, harbors, train stations and bus terminals because of its unique features:
Quick results: Infectious people are identified before the security check or latest before boarding, or soon after arrival and latest before exiting the travel hub
Highly sensitive: All contagious individuals are identified
On-site testing: The test can be easily performed in the airport w/o lab training
High throughput: 300 travellers can be tested per day with 1 mariPOC analyser
Short hands-on time: only one person at a time is needed for analysing the samples
High accuracy: The specificity of the automated mariPOC test is on the top of the market. The test detects the virus protein directly and therefore identifies only those individuals as positive who really have the disease. This is in contrast to PCR tests which react to trace amounts of viral genes. PCR positivity does not mean that a person is infectious. The asset of mariPOC is that unnecessary isolations and quarantines, potentially leading to legal actions, are avoided.
Testing of travellers on arrival
By sampling the travellers right on arrival, all contagious individuals can be identified before they leave the airport and circulate in the country. mariPOC is perfectly adapted to fulfil strict border control policies.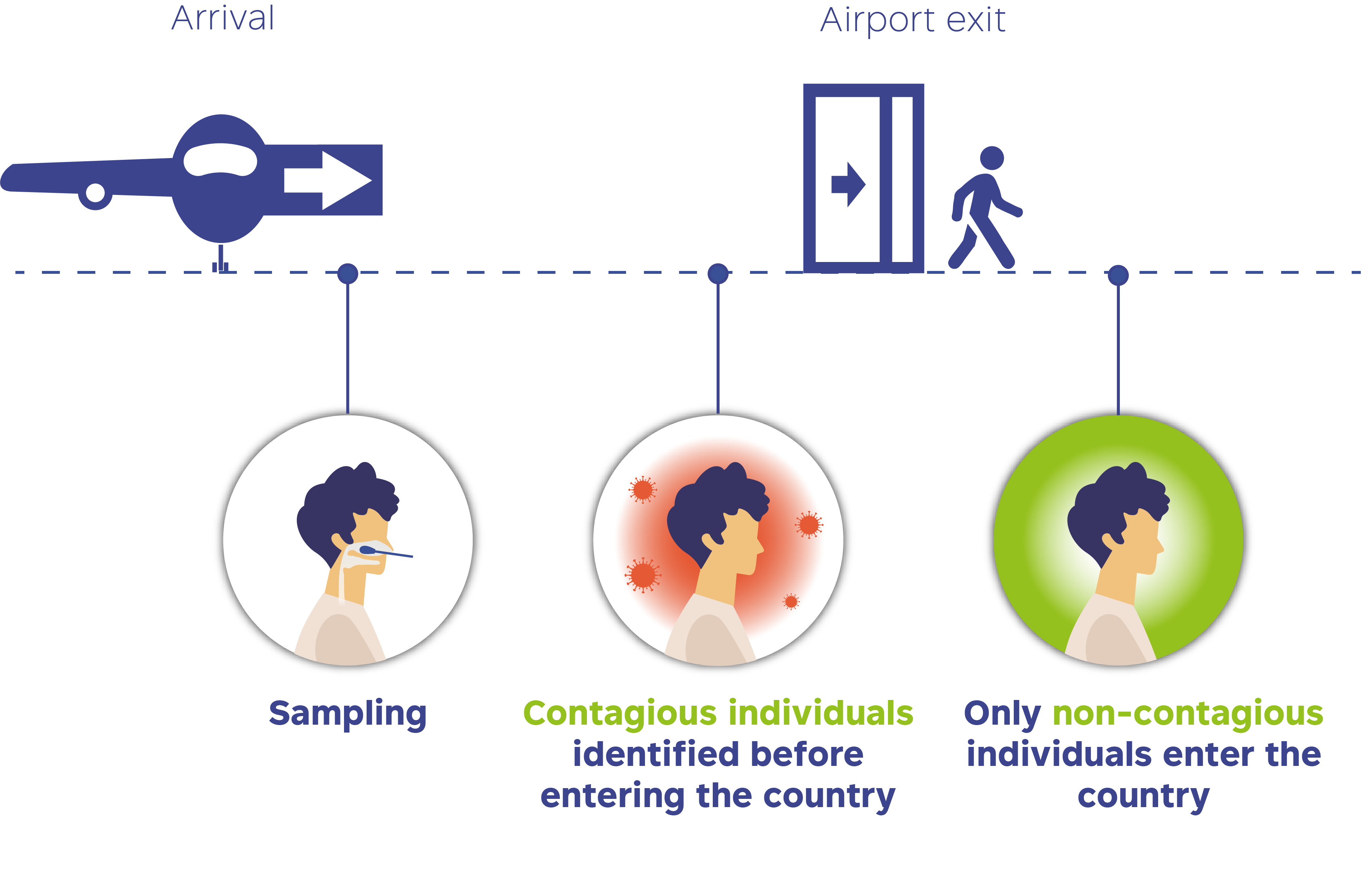 Testing of travellers before departure
The mariPOC COVID-19 test is also apt for testing passengers before departure. A negative COVID-19 certificate obtained 48-72 hours earlier does not reliably represent the travellers current status. Because of its fast turnaround time, mariPOC can be used for obtaining or renewing a fit2fly certificate right before departure.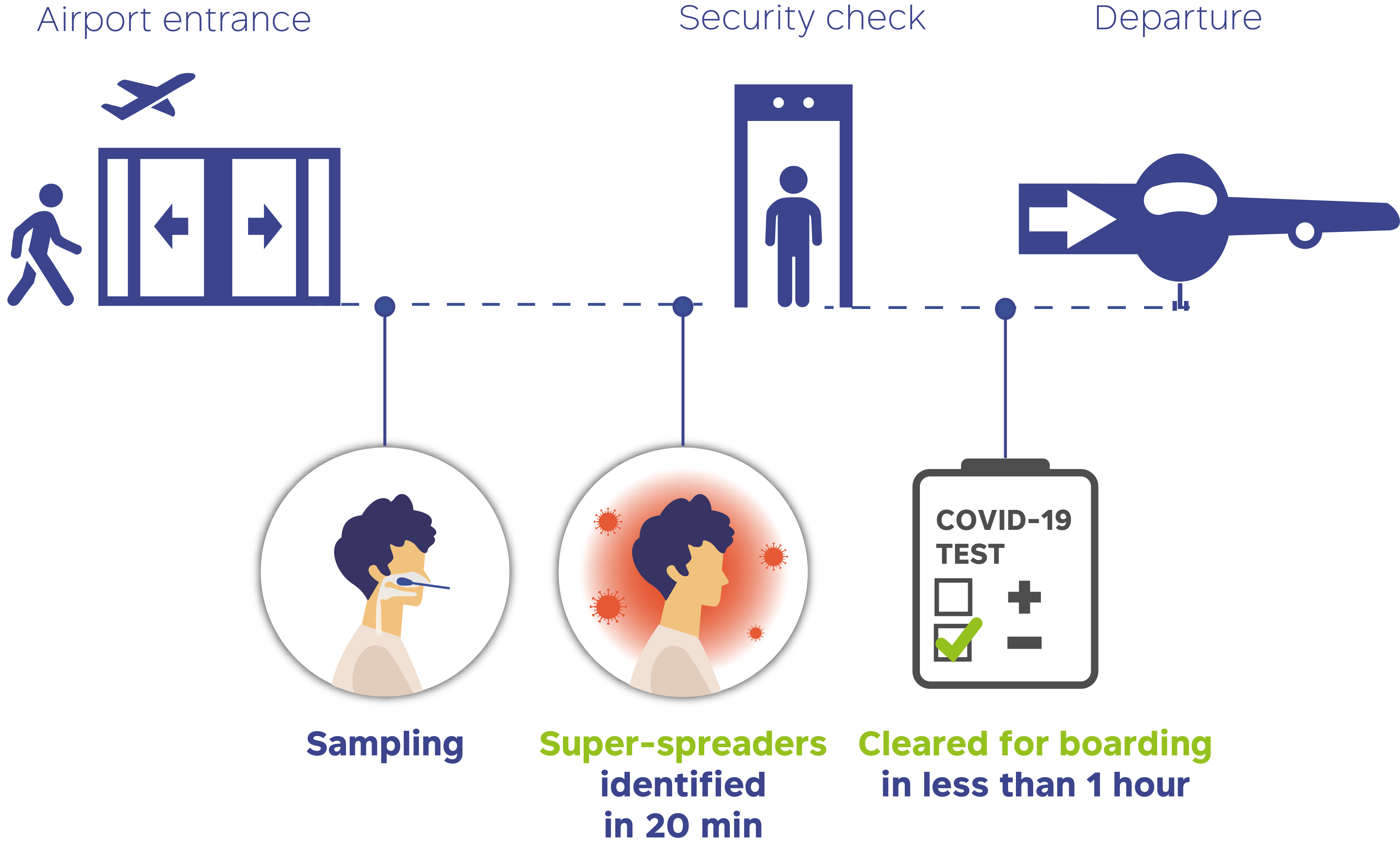 The travellers can be sampled right after arrival at the airport. The COVID-19 super-spreaders can be identified even before entering the security check. After 55 minutes even the individuals tested with low amounts of virus, but contagious, are identified. As a result, only non-contagious individuals are boarding.
Many companies are struggling to recover from the pandemic's economic impact and keep business and factories safely open. Ensuring the health and safety of workers and customers in the workplace is a top priority. Companies are encountering difficulties with access to useful coronavirus testing for their employees. Central lab PCR testing inevitably means long delays in receiving test results and does not meet the needs of keeping factories running safely and robustly.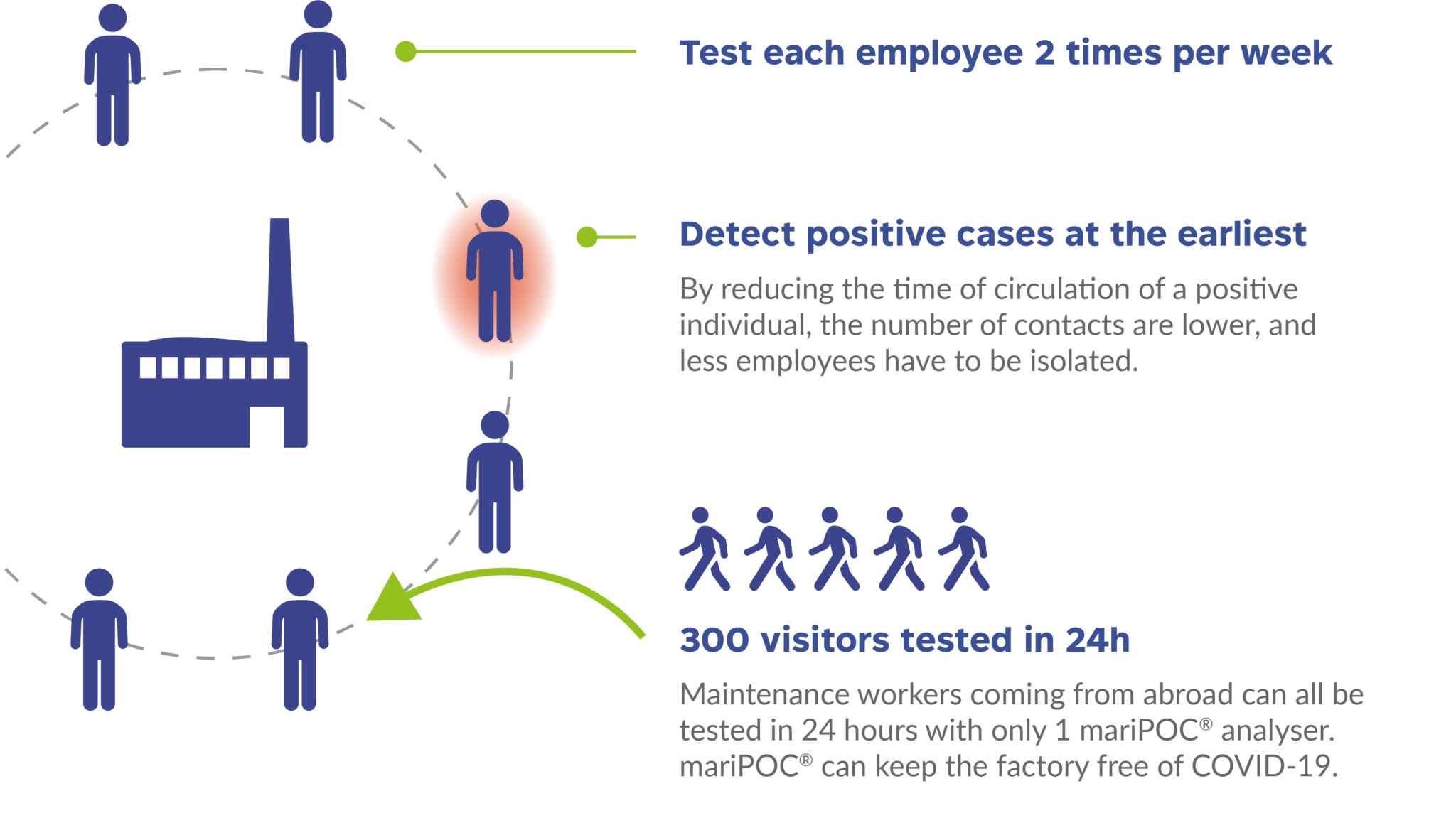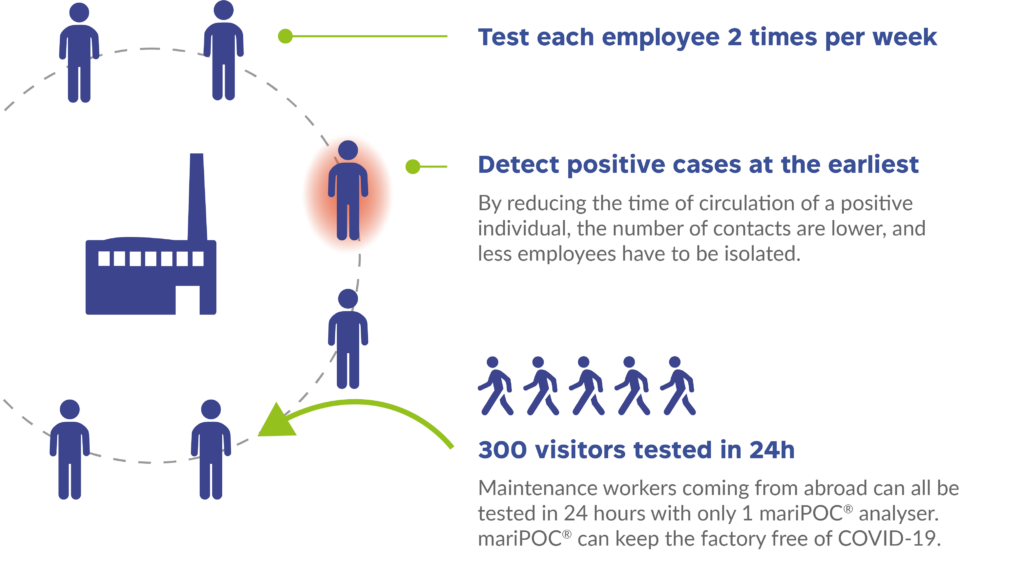 With the mariPOC COVID-19 test, effective testing strategies can be set up to both ensure the smooth running of the company and the health of the employees. mariPOC tests can be performed within the company, and this enables obtaining actionable results quickly.
Examples of mariPOC deployments for occupational health and safety range from manufacturing facilities in Central Europe to paper mills in South America and North Europe.
These customers take full advantage of mariPOC's high capacity of 300 tests in 24 hours and the fact that mariPOC can be installed and operated at the company's facilities for easy access and fast results. mariPOC keeps factories free of COVID-19 and supports running  businesses as normally as possible.