mariAST®- Rapid phenotypic AST without pure culture
The most advanced platform for rapid resistance testing
mariAST® combines in-well culture and specific bacterial detection. mariAST® measures species-specific bacterial growth in real-time in the presence of an antibiotic.
The process yields to an identification in only 20 minutes for strong positive inocula. Phenotypic resistance results are reported in just hours after sampling and directly from samples containing commensal flora.
What is mariAST® platform?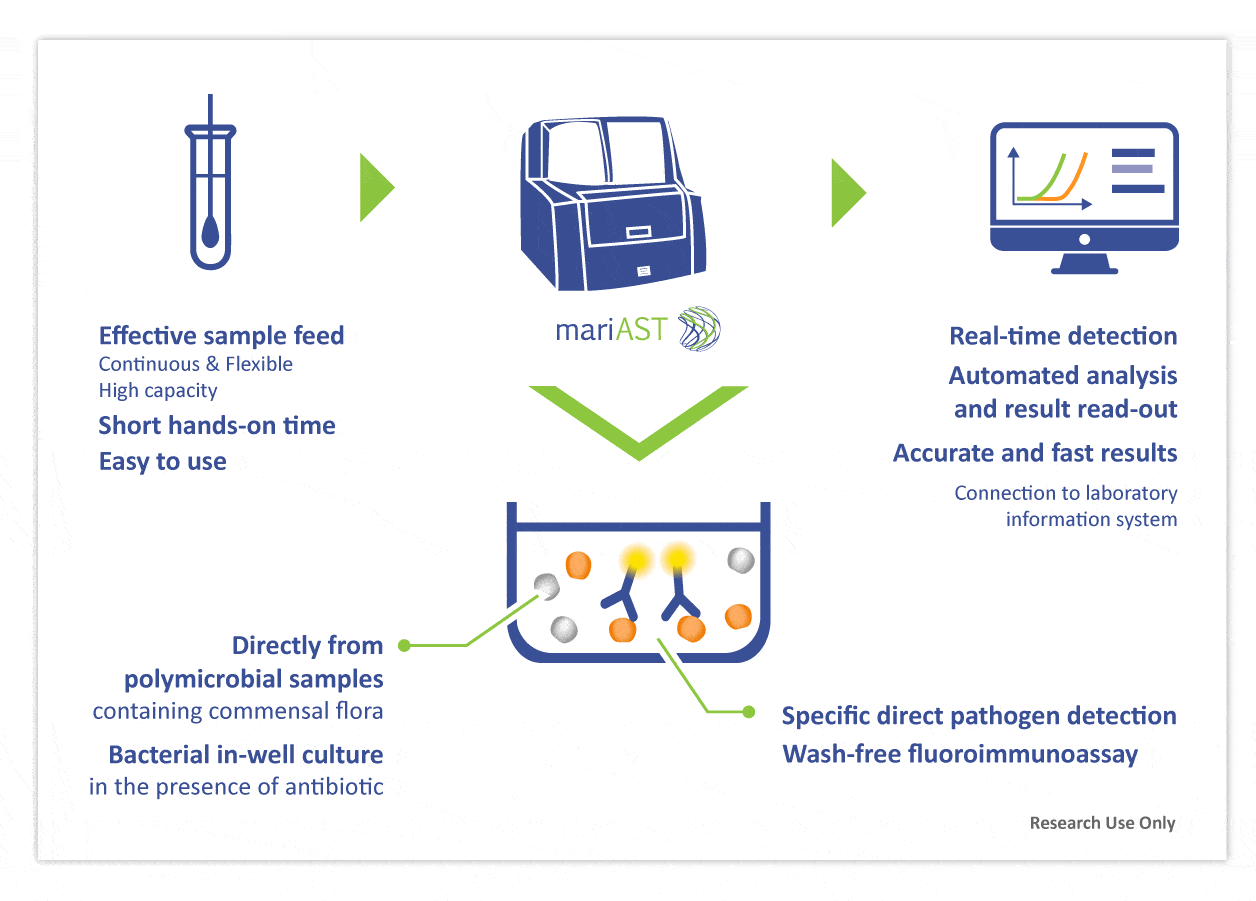 mariAST® enables accurate resistance testing
The first platform to allow p

henotypic resistance testing directly from polymicrobial clinical samples containing commensal flora, and not just "directly from positive blood cultures"

The only introduced 

platform capable of

d

ecentralized resistance testing and antibiotic susceptibility testing (AST)
It is widely known that phenotypic resistance testing offers more reliable results than genotypic testing

No compromise between assay sensitivity and result time

Applies the same fully automated and field proven TPX technology as the CE marked mariPOC®
mariAST®results allow you to take the right decisions
Pathogen- and strain-specific diagnosis and treatment

Accurate use of antimicrobials

Precise in-patient cohorting and fast discharge of contact isolation measures

Improved cost-effectiveness and patient flow management
What applications mariAST® is suitable for?
The technology provides most added value when the time to result matters, the number of plausible pathogens is limited and testing breakpoint antimicrobial concentration is enough

For example MRSA screening and testing, sexually transmitted diseases and non-penicillin susceptible pneumococci

Technically mariAST® enables also determination of MICs