Sampling is important in respiratory tract infectious disease diagnostics
The accuracy of rapid tests and especially sensitivity is highly dependent on the quality of sampling and the onset of the symptoms.
The diagnostic test result is only as good as the quality of the sample!
Sampling procedure for nasopharyngeal swab samples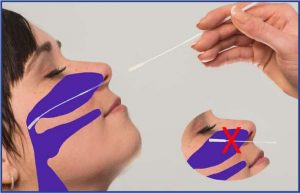 Ask the patient blow their nose when possible
Bend the patient´s head backward.
Swiftly insert the swab into the nostril. The depth of insertion is around 4-8 cm for children and 8-12 cm for adults.
Rotate the swab against the nasopharyngeal mucosa and remove the swab.
Sampling procedure for throat swab samples
Press the tongue down with a spatula or hold it with fingers and a gauze.
Wipe the swab back and forth across the oropharynx and the tonsils to obtain an adequate sample.
Ensure that the sample is not contaminated by the normal flora of the mouth by avoiding contact with other surfaces, such as the tongue cheeks.
Flocked swabs

Only flocked swabs are recommended for sample collection. Copan flocked swabs have been clinically validated for the mariPOC® test system. The flocked swabs by Medical Wire (MWE) are technically suitable but require further clinical validation.
Considering the patient size, choose as large swab as possible in order to obtain high quality sample.